Artwork Size
The maximum size of the complete artwork is:
Ultimate Discs (Discraft Ultra-Star 175g) : 17,1cm (FULL SuperColor 28 cm)
Allround Discs (Discraft J*Star 145g): 13,9 cm
Dog Discs (Wham-O Fastback 110g): 12,7 cm
Golf Discs: 12,7 cm (Color MaxTM 11,4 cm)
Super Mini: 6,8 cm
Mini Discs: 6,35 cm
Artwork Templates
| | | |
| --- | --- | --- |
| • Ultimate Discs (Discraft Ultra-Star 175g) | | |
| • Allround Discs (Discraft J*Star 145g) | | |
| • Dog Discs (Wham-O Fastback 110g) | | |
| • Mini Discs | | |

More Downloads
Artwork Submission
Your artwork should be delivered to us as a file in the following formats:
TIFF file (preferred)
Adobe Illustrator file (up to CS3)
CorelDRAW file (up to X3)
For details on how to prepare your artwork please see the below point 2. for "SuperColor" printing and point 5. for "Hot Stamp" printing.
1. General Guidance
ABOUT COPYRIGHTS:
We cannot print any
copyrighted material
without the written consent of the author, artist, or designer. If you use any copyrighted material in your design, you'll need to obtain a copyright release from the owner and submit it with your artwork.
Examples of copyrighted material include cartoon characters, corporate logos, and school mascots. Remember that you can't use the term "frisbee" in your design either for most disc manufacturers (e.g. Discraft Inc.), as it is a registered trademark of one company (Wham-O). For example you
can not use the term "Ultimate Frisbee"
, whatever the content may be, in a design to be printed on Discraft discs while "Ultimate" is allowed.
ACCEPTABLE CONTENT:
Almost anything goes… feel free to put any wacky thing you would like in your design, but please avoid sexually explicit, obscene, or vulgar language and images.
PROOFING:
It is JUMP+REACH's responsibility to determine if your artwork is properly designed in accordance with these guidelines to ensure a quality printing job. It is the customer's responsibility to proofread the design for any spelling or other content errors.
2.
Finishing your Design for Printing - "SuperColor" Artwork
2.1.
All artwork should be provided in the following
file format
:
at

original size

of artwork
-> CENTER SuperColor:

17,1 cm

diameter
-> FULL SuperColor:

28 cm

diameter
at

300 dpi

(or more)

TIFF file (PC)

LZW compressed, if possible
2.2.
It is very important to create and provide the
design in the right size
. The design may be a bit bigger in diameter as production normally can downsize it without any loss in quality. Though, if the design needs to be enlarged to get it to the right diameter, this usually automatically means a worse printing result.
Therefore, please always provide the design at minimum 17,1 or 28 cm diameter and in a high resolution of at least 300 dpi.
3.
Design Specifications - All "Hot Stamp" Artwork
3.1.
Basic principle for all designs is the
50/50 rule
. It means that maximum 50% of the printable area can be filled up (printed) and minimum 50% of the printable area needs to stay free (unprinted).
3.2.
Avoid designs that require
printing in the centre
of the disc. There is a nub of 5-10 mm diameter in the centre of the disc and will cause flaws in the printing.
3.3.
Solid areas
are limited to a maximum extension of 15 mm. If your design depends on large solid areas, you can break them up using fill patterns such as lines, dots, waves, etc. (s. examples below). Please make sure the fill patterns have a 50/50 break up (filling/free space) and dots or lines are not too small nor too thin (s. following specifications about minimum size of dots and line thickness).

There are a few print colours (black, some metallic or prism colours) that can print slightly larger areas. For your individual request please contact us or send us your design (mail, fax, post).
3.4.
For
shading
or to create a shaded effect you should use dots of various sizes like below examples show.
The required
minimum size for dots
is 25 dpi. Dots that become to small may not be recognised any more.

3.5.
Make sure that your
lines
are not thinner than in the below example. When creating at a computer 0,8 mm is the minimum line thickness.

For
negative printed design elements
a "line thickness" (cut-out) of minimum 1 mm should be provided.
3.6.
Text
should be without serifs (sans-serif) and show a minimum size of 12 points or bigger. Text with serifs do not print well, normally needs 28 points and should be bold.
The minimum font size of
reverse/negative text
(the underlying disc colour is "showing through" a solid printed area) should be 20 points or a little larger and
bold
- the bigger and thicker the better.
Basically all text should not contain lines or spaces that are too thin or too intricate. Little open areas of letters like a, e, o, s, w or A, B, M, R, Y otherwise tend to "fill in".
4.
Design Specifications -

Multi Colour
"Hot Stamp"

Artwork
4.1.
Separation
between colours must be guaranteed. The standard clearance from one colour to another has to be 1,3 mm (4,5 points) as colours don't print on top of each other. The gap between colours also ensures that there's a small amount of room for the layers to shift during printing without the colours printing on top of each
other
.
Some designs qualify for less clearance, please contact us if your design does.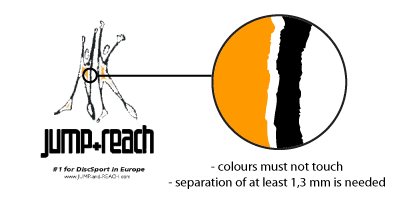 5. Finishing your
Design for Printing - All
"Hot Stamp"

Artwork
5.1.
All artwork should be provided in the following
file format
:
a) preferred
.tif file (PC)
original size of artwork at 300 dpi (1 Bit black/white)
LZW compressed, if possible
1 MB maximum file size
b) alternatively
Adobe Illustrator (saved as CS3 or lower)
CorelDRAW (saved as X3 or lower)
all fonts to be converted to curves (in Illustrator: Create Outlines)
5.2.
All artwork have to be
created/saved in black
, regardless of the print colour you choose.
5.3.
If you chose to work with a
reference ring
to aid your design, be sure to remove it before sending us your artwork or it will be printed on your discs.
5.4.
All artwork will be printed in the center of the disc at maximum size, unless otherwise specified. If your
design is not circular or is smaller than the maximum printing area
, indicate where you would like the design to be placed on the disc (within the maximum printing area).
6. Finishing your
Design for Printing - Multi Colour
"Hot Stamp"

Artwork
6.1.
Each colour of the design must be prepared as a
separate artwork
(for separate dies) and in black like the below example.
die_1.tif (in black)
name: "figures"
print colour: black

die_2.tif (in black)
name: "filling"
print colour: orange
6.2.
For accurate positioning each of the artwork should show
registration marks
at exactly the same positions (s. example above).
6.3.
Please prepare also a
preview
file in low resolution that shows the complete artwork in your colours of choice like the below example.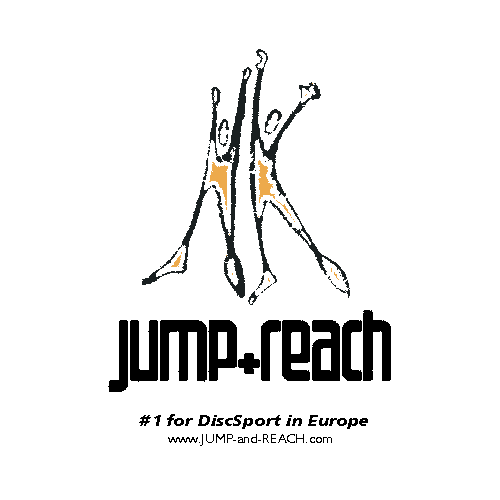 preview.jpg / preview.gif
name: "JUMP+REACH"