JUMP+REACH / GAIA Europe is proud to promote and support Junior Ultimate. 2010 we established a youth development program – the
GAIA Youth Sponsorship
.
Junior teams get special discounts and additionally the GAIA Youth Sponsorship logo on the sleeve of the jerseys or on the side of the shorts for FREE.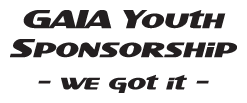 Click the uCustomize Design Studio and you can start designing your individual jerseys and shorts at once!


Special
GAIA Youth Sponsorship
discounts:
FREE GAIA Europe Membership (25% discount on retail prices)
20% additional discount on all jerseys and/or shorts

20% additional discount on all upgrades (e.g. 2nd colour, contrast stitching, etc.)
FREE GAIA Youth Sponsorship logo on right sleeve of jerseys or on right side of shorts (see example below)
→ all costs for printing covered by JUMP+REACH / GAIA Europe
→ printing colour can be chosen by yourself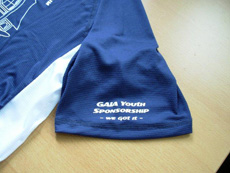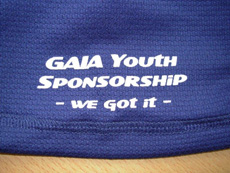 Use the "Share" button in the
uCustomize Design Studio
to share your ideas and design with your team members. Try it – it's fun!


Qualifying for the GAIA Youth Sponsorship:
80% of your team must be juniors (19 or younger)
... that's it :-)

More details and price examples:
You get a top quality GAIA Ultimate jersey – including the GAIA Youth Sponsorship logo – at
only 18,40 Euro/pc. for a 1-colour jersey
(regular retail: 31,00 Euro) or
just 20,80 Euro/pc. for any 2-colour jersey
(regular retail: 35,00 Euro) and
1-coloured shorts at only 20,00 Euro/pc.
(regular retail: 33,00 Euro).
The collection can be freely chosen – Base, Groove, Proflight, Collegiate, Elite or Vent – prices are the same for all of them.
Additional options (more colours, contrast stitching, …), further printings (logo, team name, player names + numbers, sponsors, …) and matching shorts to make your new GAIA team kit look outstanding are of course no problem as well.

Your next step:
You can request a quote very easy. Use the
uCustomize Design Studio
to create your jerseys or shorts, click "Get a quote" and leave a note saying "GAIA Youth Sponsorhip". We'll e-mail a quote within 24 hours (Mo-Fr).
Feedback of GAIA Youth Sponsorship teams:
Last weekend we presented the jerseys at our own tournement and received only positive feedback. Die "Osterholzer" were taken with the jerseys and told others. The quality seems to be very good and also wearing comfort. Delivery has been no problem at all. Altogether we are very satisfied and give you a 10/10.

Jörn, Einceller (Kaiserin-Auguste-Viktoria-Gymnasium, Celle)
Quality, price and service are good. The jerseys look awesome!

Martin Reckmann, Ultimate Greenhorns (Münster)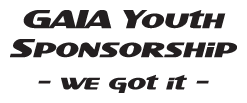 Get a quote with the
uCustomize Design Studio
or send us a
message
. We'll be in touch with you within 24 hours.